A Leader in Transformational Medicine
Overview
Lobe Sciences Ltd. is a life sciences company focused on the research and development of psychedelic medicines. The Company focuses on clinical development of devices and medicines to treat neurological disorders and brain trauma. The Company's mission is to identify and develop transformative new methods, medicines and devices to improve brain health and provide new pathways for treating brain injuries and neurological disorders. The Company undertakes the development of innovative medicines and devices to treat mental health disorders and improve well-being while building a growing a portfolio of intellectual property to protect our technologies. The Company is working to develop psychedelic compounds as therapeutics.
Psychedelics (serotonergic hallucinogens) are powerful psychoactive substances that alter perception and mood and affect numerous cognitive processes. They are generally considered physiologically safe and do not lead to dependence or addiction. NAC is a dietary supplement derived from the amino acid L-cysteine. Taking NAC increases the level of glutathione, a potent antioxidant and anti-inflammatory molecule, in cells. Glutathione's function is to protect cellular compounds such as DNA and prevent damage to them from reactive oxygen species and inflammatory cytokines. It is also used as an antidote for acetaminophen overdose.
Studies indicate that no proven treatment modality currently exists for the sequelae/long term effects of either mTBI with PTSD or either condition alone. The Company's vision is to administer the compounds of psilocybin and N-acetylcysteine ("NAC") in doses that will be administered at home, the emergency department or clinic.  The Company plans to develop psilocybin-based therapeutics in combination with NAC for the treatment of mild traumatic brain injuries ("mTBI") and post-traumatic stress disorder ("PTSD") and devices for the efficient application of these medications
The first focus is on micro-dosing psilocybin in combination with NAC for the treatment of mTBI and PTSD and other neurological disorders. Additionally, they may be paired with odorants to create memory odor imprint pairing. The second is micro-dosing MDMA, where MDMA is combined with NAC for the treatment of mTBI and PTSD and other neurological disorders. Likewise, pairing them with odorants in an attempt to create memory odor. Third, Lobe Sciences has been evaluating the development of a medical device for immediate delivery of medicines directly to the olfactory bulb[, the structure located in the forebrain of vertebrates that receives neural input about odors detected by cells in the nasal cavity, for best therapeutic outcomes. Finally, a virtual reality ("VR") is often shown to be used in enhancing the therapeutic outcomes of patients.  We are evaluating the use of a VR headset or a fully immersive pod combined with a nasal mist transducer device ("NMT") to improve efficiency and raise response to treatment.
The Company has submitted a provisional and PCT patent applications and launched a preclinical research study to examine a strategy that combines two products for the treatment of PTSD and mTBI with PTSD. The proposal will use a well-established rodent model to test the use of a combination of NAC and psilocybin in animals that have been subjected to mild-moderate traumatic brain injury with PTSD induced through an established rodent PTSD paradigm.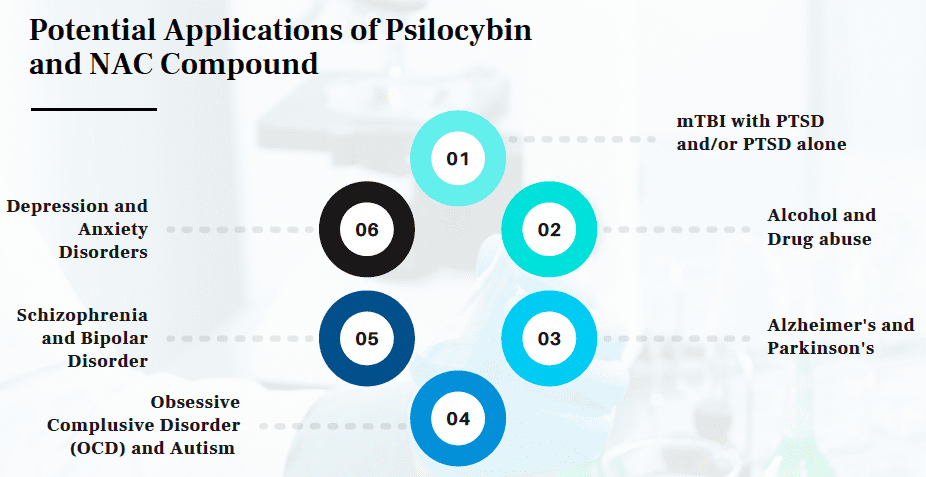 Cowlitz County Cannabis Cultivation Inc., was another subsidiary of Lobe Sciences.  Cowlitz, based in Washington State, is a Tier 2 licensed cannabis processor.  Washington is one of the states where medical and recreational use of cannabis is legal and is one of the most mature cannabis markets in the country. As a top producer in the state, Cowlitz has a range of innovative products and brands it brings to the market. Lobe divested Cowlitz to a multistate cannabis operator called Ionic Brands.
On March 8, 2021 the company completed the sale of Cowlitz County Cannabis Cultivation Inc. to Ionic Brands Corp.
Strengthened Lobe's balance sheet with C$1.75 million cash on closing
Lobe Sciences received 100,406,701 series E non-voting preferred shares of CNSX:IONC which convert on a one-to-one basis and carry an annual dividend of 13% for a period of two years
Lobe Sciences also received 4,000,000 five year C$0.30 Ionic Brand warrants
Lobe Sciences' Company Highlights
Headquartered in Canada with North American Operations
Currently developing psychedelic therapeutics as an integrated biotech company
Therapeutic development focused mild traumatic brain injury(mTBI)and posttraumatic stress disorder (PTSD) associated with head trauma
Lobe Sciences is currently prosecuting several provisional patents to treat PTSD or mTBI with PTSD
Additional provisional patent for methods and compositions for treating mTBI PTSD alone with 3,4 MDMA plus NAC
patent pending for a medical device for delivery of medicines to the olfactory bulb
Lobe Sciences is collaborating with a multidisciplinary team of scientists and physicians from the University of Miami where Dr. Michael Hoffer is conducting a large preclinical study on the effect of the treatment of mTBI with PTSD or PTSD alone based on the combination of psilocybin and NAC
Lobe Sciences' Future Outlook
Moving ahead, Lobe Sciences has a range of catalysts on the horizon.
The company is gearing up to conduct pre-clinical studies, which includes GLP toxicology, ADME in addition to forming and manufacturing, to file an investigational new drug application (IND). Lobe Sciences, together with its subsidiary Eleusian Biosciences, will partner with the University of Miami to conduct the study on rodents to prove the efficacy of the molecules.
With successful results following the study and regulatory approval, Lobe Sciences aims to file its IND with the US Food and Drug Administration (FDA) by March 2022 to be able to move the candidate of psilocybin and NAC into a Phase 3 Clinical Trial by July 2022 on humans for the treatment of mTBI with PTSD or PTSD alone in collaboration with investigators at the University of Miami and other clinical research institutions. The company aims to look at what proper dosing will look like with these trials.
Pending any FDA approval, Lobe Sciences will consider bringing its products to other global markets.
Lobe Sciences' Management Team
Philip J. Young – CEO & Director
Philip Young is an accomplished CEO and innovative professional with 25 years of expertise in senior executive management and board roles, with significant mergers and acquisitions and equity financing experience. He has a proven track record in the biotech, medtech and pharmaceutical industries with expertise in dealing with FDA/regulatory frameworks as well as new device and therapeutics development. From 2015 until 2019, Mr. Young was the Founder, Chairman, and CEO of Exactus Inc. ("Exactus"), an OTCQB listed company he successfully transitioned from a medical technology company to a farming focused hemp-derived CBD company.
Prior to Exactus, Mr. Young was the president, CEO, and Director of AmpliPhi Biosciences Corp. (now Armata Pharmaceuticals Inc.), a global biopharmaceutical company. He was also previously the President, CEO and a director of Osteologix Inc., where he was responsible for directing and managing all facets of the global pharmaceutical development company. He is the former Chief Business Officer and Executive Vice President of Insmed Inc., where he directed all financing, corporate and commercial communications activities. Prior thereto, he was the Vice President and General Manager of Neurex Corp., where he was involved with the negotiations for its US$700 million acquisition by Elan Corporation. Mr. Young holds a Bachelor's of Science from James Madison University.
Brian Zasitko – CFO
For over 13 years, Brian Zasikto has worked in a number of private and public companies in sectors such as cannabis, agriculture, manufacturing, and utility industries. Mr. Zasitko is well versed in financial reporting and corporate governance and the capital markets.
Dr. Maghsoud Dariani – Chief Science Officer
Dr. Dariani has extensive experience working with a wide range of life science companies. He is the current president and CEO of Semorex Inc., a privately held company focused on novel therapeutics for cancer. Mr. Dariani was previously the president of Focus Pharmaceuticals, Inc., where he managed the development and approval of drug products and notched an FDA approval for another clinical evaluation stage.
Jonathan Gilbert – Executive Director
Jonathan Gilbert was the founder and CEO at Tassili Life Sciences Corp., a biotech firm conducting research with psilocybin. Gilbert is also the founding CEO of Eleusian Biosciences, which Lobe Sciences acquired in June 2020, and will play an integral role in the company's growth strategy moving forward.
Leighton Bocking – Director
Leighton Bocking has worked in the capital markets for over a decade. Primarily, his role has been as an independent corporate development consultant as well as other various director roles. Mr. Bocking has been particularly focused on financing and structuring companies.
Dr. Mark A. Geyer Ph.D – Scientific Advisor
Dr. Geyer is Distinguished Professor of Psychiatry and Neurosciences Emeritus at the University of California San Diego (UCSD) and directs the Neuropsychopharmacology Unit of the VISN 22 Veterans Administration Mental Illness Research, Clinical, and Education Center. He is respected internationally for his research on the psychophysiology, neurobiology, and pharmacotherapy of schizophrenia and bipolar disorder. Dr. Geyer's broad experience as a researcher, grant reviewer, journal editor, and teacher lends invaluable scientific and professional expertise to several organizations, as he provides leadership to develop strong programs in the behavioral psychopharmacology and clinical applications of psychedelic agents.
Charles S. Grob, MD – Scientific Advisor
Charles S. Grob, M.D. is Professor of Psychiatry and Pediatrics at the UCLA School of Medicine.  He previously held faculty positions at the Johns Hopkins School of Medicine and the University of California at Irvine.  He has conducted approved clinical research with psychedelics since the early 1990s.  From 2004-2008 he was the Principal Investigator of the first study in several decades to examine the use of a psilocybin treatment model for patients with advanced-cancer anxiety.  He has also conducted research into the range of effects of MDMA, in both normal volunteers and in a selected subject population of adult autistics with severe social anxiety.  And, he has conducted a series of ayahuasca research studies in Brazil.  Over the last thirty years Dr. Grob has published numerous articles on psychedelics in the medical and psychiatric literatures and he is the editor of Hallucinogens: A Reader (Putnam/Tarcher, 2002), co-editor (with Roger Walsh) of Higher Wisdom: Eminent Elders Explore the Continuing Impact of Psychedelics (SUNY Press, 2005) and co-editor (with James Grigsby) of the recently published Handbook of Medical Hallucinogens (Guilford Press, 2021).  He is a founding board member of the Heffter Research Institute.
Benjamin Kelmendi, MD – Scientific Advisor
Benjamin is a psychiatrist and an Associate Professor in the Department of Psychiatry at the Yale University School of Medicine. His primary clinical expertise is in PTSD, Depression, OCD, and the endocannabinoid system. He is the co-founder of the Yale Psychedelic Science Group. He leads a research program focused on the therapeutic potential of psychedelic medicines, across a range of psychiatric diagnoses. He is currently investigating the effects of psilocybin on the neurocircuitry implicated in the development, maintenance, and treatment of patients with OCD. He is also exploring the effects of MDMA on brain activation and neural network organization in PTSD to understand the relationship between MDMA-induced neural changes and the acute cognitive and behavioral effects of the drug.
Albert "Skip" Rizzo, Ph.D – Scientific Advisor
Albert "Skip" Rizzo is a clinical psychologist and Director of Medical VR at the University of Southern California Institute for Creative Technologies. He is also a Research Professor with the USC Dept. of Psychiatry and School of Gerontology. Over the last 25 years, Skip has conducted research on the design, development and evaluation of Virtual Reality systems targeting the areas of clinical assessment, treatment, and rehabilitation across the domains of psychological, cognitive and motor functioning in both healthy and clinical populations. This work has focused on PTSD, TBI, Autism, ADHD, Alzheimer's disease, stroke and other clinical conditions. He has also driven an extensive research program on the use of intelligent virtual human agents for clinical training, healthcare information support, and clinical assessment. In spite of the diversity of these clinical R&D areas, the common thread that drives all of his work with digital technologies involves the study of how Virtual Reality simulations can be usefully applied to human healthcare beyond what's possible with traditional 20th Century methods.
Ilan Hayman – Advisor
Ilan has played a pivotal role in the General Management of healthcare businesses including a private cosmetic surgery chain and the commercialisation of a breakthrough skincare range. He successfully led the development of these products from concept through to production commercialization. Most recently Ilan oversaw a group of national medical centers.  His career into operations management was triggered by his valuable experience as part of the Risk and Controls Solutions practice at PricewaterhouseCoopers (PwC). Specifically, Ilan's passion is assisting the medical fraternity in their practice management and business administration functions. Ilan's ambition is to work in a role that utilises his analysis expertise enriched by his exposure to the commercial side of business. Ilan has a passion for assisting community organizations and sits on several boards of not for profit organizations. He also holds Bronze and Silver Duke of Edinburgh awards and brings along a unique set of community and industry related experience.
Bart Oates — Advisor
Bart Oates Esq. is a three-time Superbowl Champion, who graduated magna cum laude with a Juris Doctor degree from Seton Hall during his off season. Prior to his NFL career, he earned a BS in Accounting from the Marriott School of Business at BYU and was inducted into their athletic Hall of Fame in 1992. Bart was selected to five Pro Bowls during his NFL career and to the UPI All-NFC team three times. Bart is now the President of the NFL Alumni Association which offers former players a diverse package of medical, business, and legal services to help keep them and their families healthy, productive, and connected to their former teammates.
Gilberto Jesús Mendoza – Advisor
Gilberto Jesús Mendoza is currently the President of the World Boxing Association. Mr. Mendoza began his career as a lawyer and an engineer and has been working with the WBA since 2015.  His priority has always been to give opportunities to the most vulnerable regions of the world. He has spent time in close contact with athletes since he was a child and has actively participated in the intention to rescue amateur boxing. Mr. Mendoza is the proud creator of "Un Solo Boxeo" (Only One Boxing), a program that promotes the integration of professional boxing. He also created the Future WBA Champion, a project that has given space to thousands of boxers in their preparation stage for the Tokyo Olympic Games. Mr. Mendoza's goal is the growth and development of boxing, as well as its adaptation to change.
---
*Disclaimer: This profile is sponsored by Lobe Sciences (CSE:LOBE). This profile provides information which was sourced by the Investing News Network (INN) and approved by Lobe Sciences, in order to help investors learn more about the company. Lobe Sciences is a client of INN. The company's campaign fees pay for INN to create and update this profile.
INN does not provide investment advice and the information on this profile should not be considered a recommendation to buy or sell any security. INN does not endorse or recommend the business, products, services or securities of any company profiled.
The information contained here is for information purposes only and is not to be construed as an offer or solicitation for the sale or purchase of securities. Readers should conduct their own research for all information publicly available concerning the company. Prior to making any investment decision, it is recommended that readers consult directly with Lobe Sciences and seek advice from a qualified investment advisor.